SANCTA MARIA COLLEGE Louisburgh Co. Mayo

Our School
A Short History

Sancta Maria is the first Catholic co-education Secondary School in Ireland. The school was established by the Sisters of Mercy in 1920. Twenty pupils started that year. There was a fee of £9 per student per year.

A new Convent and school were built in 1924. The school struggled through many ups and downs until the numbers warranted the building of the two story building in 1960. Extra classrooms were built in 1965.

When the Free Education Scheme started in 1967 numbers in the school increased from about 110 in 1967 to 187 in 1970. At the end of the 1960s pupils from Clare Island and Inishturk Island started to board in the school.
This continued well into the 1980s. Now students board with local families. Through the 1970s pre-fabricated buildings and the old Parochial House were used as classrooms. In 1986 the present building was opened.
In 1999 the football ground was renovated to become an all weather pitch. The school resources are being continuously upgraded to deliver the highest level of education to all our students. At present there are 361 students and twenty-five teachers with three special needs assistants, secretarial and maintenance staff. The school has broadband access and new state of the art computers with overhead projectors in all classrooms.
The End Of An Era
News Feature The Mayo News September 2007
Anton McNulty

FOR four decades, Vincent O'Loughlin and John Lyons were part of the furniture in Sancta Maria College, Louisburgh, but this September instead of brushing off the cobwebs from the text books, each was improving his short game on the golf course.
After such a long time in the school, you'd think the former Principal and Deputy Principal, respectively, would have felt a tinge of emotion on September 1. Not a bit of it. For them retirement means retirement and, after a combined total of 72 years working in Louisburgh's esteemed second level college, they feel they deserve it.
Chatting with the two men in the new, trendy Louisburgh 74 restaurant, they are relaxed and at their leisure as they enjoy their afternoon tea. It is a welcome change from the crowded and stuffy staffroom and it is a part of retirement they could get used to.
They are not the only two retirees from the school, with Vincent's wife Nuala also joining him in retirement, along with former principal and home school liaison officer, Sister Ann Feighney.
Vincent was appointed principal in 1994, taking over from Sister Ann, and in doing so became the first lay person to take the role of principal in the college, which was Ireland's first Catholic co-educational college when it opened in 1920. A native of Kilmaine, he came to Louisburgh in 1970 to become the school's first science teacher – but didn't get off to the best of starts when he was late for his first day after his car broke down.
However, he was given the benefit of the doubt and in the intervening 37 years, he has seen the student population grow from 150 to 330. Now, after having the pressures of school principalship hanging over him for 13 years, Vincent admits he is having a good night's sleep for the first time in a long time.
"When you are the principal you are responsible for every aspect of the school. When I took over I had no secretary, there was no caretaker, no cleaner and I had to open and close the school. I would often be woken at three o'clock in the morning because the alarm in the school had gone off and I had to turn it off. Now I can take it easy and the sleepless nights have gone," he laughed.
The school has come on in leaps and bounds since the two men first started teaching. John, who joined the teaching staff in 1972 and was vice-principal for the past four years, fondly recollects the 'prehistoric' facilities he first encountered, with every piece of chalk having to be accounted for, and the changes that have taken place since. The new wing to the school was added in 1985 and football pitches were developed a decade later. The school has doubled in size and the facilities inside the school have greatly improved, with two new computer rooms the most recent additions.
The school is now wireless accessible, something Vincent admits he thought he would never see when they got their first computers.
"When we got the Commerdore 64s, there was an inservice course and we did not have a clue. We were trying to play a game where you had to hit a ball up and down the screen and it was very frustrating. The technology has come on a long way since and now every teacher has a laptop, a wireless connection is installed and there are two computer rooms. To be honest, I did not see the point of computers other than for writing on. They were truly frustrating," he said.
While some qualified teachers today complain about the lack of vacancies available to them, for John there was no such problem. After graduating with a degree, he decided to have a go at teaching and finding a job was no problem.
"I started teaching in Sligo in 1967, just as free education was being introduced. In one week I had been offered ten jobs and I remember getting a telegram from Wicklow VEC telling me I could start on Monday if I wanted to, without even having to do an interview. When I came to Louisburgh in 1972, I taught Irish, English and history and I really enjoyed it.
"The biggest difference in teaching I have noticed is the amount of inspections that occur now compared to when I started. When I was in Sligo I was inspected once and it was another 20 years before I was inspected again. In all I think I was inspected three times, but I think the new system is much more organised and that is a good thing for both the teacher and the pupil," he said.
During Vincent and John's time in the school, it has excelled in both academic and extracurricular activities, one of the highlights coming last year when the All-Ireland debating title was secured. The ethos of the school has always been to help all the students to achieve their best and it is something that the new Principal, Pauline Moran wants to continue. She readily admits that she and the new Deputy Principal, Michael Davitt, have a hard act to follow but it is a challenge she is looking forward to.
"The previous leadership brought development to the school and a fantastic atmosphere of warmth and caring along with the promotion of the students in the school under the Mercy ethos. We want to promote self-fulfilment in each student but also develop new ideas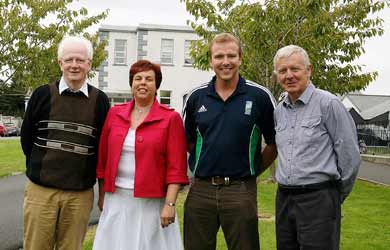 PASSING THE BATON
There has been a changing of the guard at Sancta Maria College, Louisburgh, with, from left, Vincent O'Loughlin retiring as Principal to be replaced by Pauline Moran, and Michael Davitt taking over as Deputy Principal from John Lyons who has retired. 
Grianghraf: Cormac Ó Cionnaith

"We would like to wish Vincent and Nuala, John and Sister Ann the best in the future and thank them for all the work they did for the school," she said.
As they begin their retirement, both men admit that teaching teenagers throughout their lives has kept them up to date with the latest fads like bebo sites and mobile phones – and has kept them young at heart. The latest craze for graduates is to take a year out and travel the world, and visiting different countries is something both men have their sights on in the coming years. They may have retired but Vincent and John won't be reaching for the pipe and slippers any time soon.